ComDev Asia (CDA) will launch a communication campaign to advance resilient family farming in the Asia-Pacific Region around six interrelated themes as part of its participatory communication plan. These themes will serve as framework to the development of messages and topics for the campaign.
The campaign aims to raise awareness about the role of family farming, especially in the context of the COVID-19 pandemic and in building a sustainable and inclusive "new normal." It will have two streams — one for the General Public, including the government and the private sector, and another for family farmers.
The six campaign themes include:
Health and Nutrition – This theme positions family farmers as front liners in the global fight against COVID-19. Family farmers feed and sustain the nutrition of the world to build resistance against the virus and other illnesses.
Sanitation and Safety – This theme includes messages to ensure the occupational safety of family farmers, including alternative sanitation methods approved by the World Health Organization.
Biodiversity, Environment, and Culture – This theme advocates family farmers as champions of biodiversity, guardians of indigenous practices and cultures, and partners in climate change adaptation and mitigation efforts.
Youth and Gender – With the belief that a resilient family farming is also an inclusive one, this theme hinges on the potential of youth and gender groups in sustaining family farming in rural areas and in leading producer organizations.
Economics and Food Systems – Messages under this theme revolve around measures to link farmers, consumers and partners together to secure sustainability of farmer production and marketing in spite of the impacts of COVID-19 on food systems.
Policies, Services and Organization – This theme underscores the central role of governments in creating an enabling environment for family farmers. It also encourages farmers to partner with and join farmer organizations.
The relationship of these six themes is presented through a diagram. At the core is the theme on Policies, Services, and Organization, which holds together the other five themes. All of them overlap and intersect in middle to signify their influence on each other.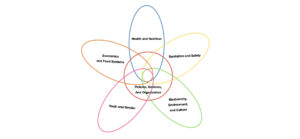 Specific messages will be crafted for each theme. These will be shared to the general public through social media and websites, and to the family farmers through community radios.
These themes are validated by the members of the CDA steering committee and working groups through a virtual consultation on June 11.